So if Perfect Couple was an example of B grade fluff, Cyrano Dating Agency is bringing its A game.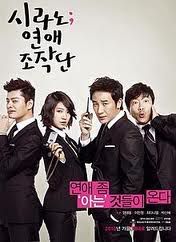 Cyrano Dating Agency stars Lee Min-jung (who will be in the upcoming Big with Gong Yoo), Uhm Tae-woong, Park Shin-hye, and Daniel Choi as unemployed stage actors who decide to use their drama skills to help the lovelorn win their hearts' desire.It's basically a modern retelling of Cyrano De Bergerac, only instead of letters they are using high tech surveillance equipment.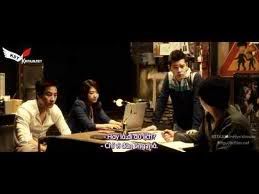 First of all, the cinematography and the set design is lovely. The set for their home base in an old theater has all of these lovely warm tones and antique theater props. The soundtrack is perfectly understated as well. Here's a video of the song that features prominently in the plot line:
AGNES BALTSA - Aspri méra ke ya mas
Like the song, there is a certain dreamy quality to the film and it's not a fast mover. This is one you just kind of sit back and go with the flow on.
The cast works well together, the plot isn't wholly unexpected if you know the source material but the journey is a pleasant one and the angst isn't overwhelming. In fact there is a definite sweetness to it that I enjoyed a great deal.